Telegram channel: https://t.me/TheGemHuntersTG
Host: Trader Wojak
Wojak: Welcome to the AMA. Really excited to host this one as I have had great convos with you beforehand already 🙂

Q1. Starting off, could you us about yourself and VersoView?
Julian Jordan (CEO)
Sure, thank you Trader Wojak and the @gemcollectors community for hosting us today.
I'm Julian Jordan, CEO at VersoView. I've been a serial entrepreneur since the early days of the internet in the 1990s, and I've been involved in blockchain since 2017.
I've opened and run eight figure businesses with Steve in Europe, the Middle East and Asia, and I've been involved in publishing both traditional and digital for over 25 years.
Trader Wojak (Host)

Awesome, you've experienced multiple bubbles.

Julian Jordan (CEO)
Yes indeed Wojak
VersoView is an engagement and rewards platform hosting branded DeFi ecosystems.
Brands, businesses, educational partners and publishers can host and engage their communities around their content and reward them with branded social tokens within the VersoView ecosystem.
A lot do a bit, nobody does it all and we have the real world connections to make this work.
Trader Wojak (Host)
Basically a platform where people can view content and get rewarded for it? How do people get Rewarded?
Julian Jordan (CEO)
Let's say LEGO mints their own $LEGO token. If they publish a monthly report, people can get incentivized by reading (both readers and employees). With this token, the company can peg a value at it and they can spend it how they see fit.
We also incentivize good writing being rewarded; peer-to-peer. Users can give (like thumbs up) value to an article. If a lot of people like it, the writer gets rewarded.
Trader Wojak (Host)

Awesome. So content creators mint their own tokens and reward viewers / employees with it?
Tommo (Community Manager)
Pretty much; educational partners, companies and publishers can all mint their own tokens on the ecosystem.

Q2. You guys also have a token: $VVT — What purpose does the token serve?
Alex Moody (Director of Operations)
The VersoView token is the lifeblood of the system. Staking, rewards, minting social tokens, all require VVT to function. In addition our deflationary revenue mechanics for VVT incorporate the relationship between our corporate revenue and the tokenomics

Q3. Tell me about the tokenomics

Alex Moody (Director of Operations)
Advertising is a core revenue driver, 5% of all advertising revenues generated by VersoView in any fiat currency will be used to buy $VVT from the open market.
33.33% will be permanently locked in a 0x0000 Ethereum address, 33.33% will flow into the Ecosystem Rewards Pool, and 33.33% will flow into the Staking Rewards Pool. So we get the relationship between our revenues and the token underlying values.
6% of advertising revenues generated in VVT will be distributed: 33.33% will be permanently locked in a 0x0000 Ethereum address, 33.33% will flow into the Ecosystem Rewards Pool, and 33.33% will flow into the Staking Rewards Pool.
And on top of that there are subscriptions. 5% of all Subscription revenues generated by VersoView will be used to buy $VVT from the open market, of which 33.33% will be permanently locked in a 0x0000 Ethereum address, 33.33% will flow into the Ecosystem Rewards Pool, and 33.33% will flow into the Staking Rewards Pool.
You can see more details in this Revenue Mechanics document: https://versoview.com/wp-content/uploads/2021/01/VVT-Revenue-Mechanics_v3.pdf
Q4. Who will be rewarded from the ecosystem reward pool?
Alex Moody (Director of Operations)
The Staking Rewards Pool rewards token holders as we are used to in blockchain. The Ecosystem Rewards Pool is unique.It is a locked pool of tokens used to incentivize new Subscribers who we onboard.
We give it to them and they stake it into a smart contract to mint their first batch of social tokens. If they leave the platform, those tokens return to the pool, thus never entering circulation. Think of it like a first "taste" of blockchain for traditional enterprises to try out like a demo mode.
Trader Wojak (Host)
Ah, so it's a sign of legitimacy, but not spendable.
Alex Moody (Director of Operations)
Indeed. If they want to expand their rewards program beyond the initial allocation, they need to buy that $VVT from the open market. Then stake it as well to mint more of their branded social Token.
Q5. By the Way, could you introduce me to the entire team?

Julian Jordan (CEO)
Yes indeed, My Co founder and business partner of 25 years Steve Peaple CPO is here, along with Alex Moody Director of Operations, Robbert van der Vleuten Director of Marketing and Tommo our Community Manager.
Our CFO is Col Werner and we have a heavyweight team of advisors; Gerald Aburrow, former Vice President International Operations, Warner Bros International. Ajay Bandhu. Former Head of Personal Banking Central Europe, HSBC

Col Werner (CFO)
I wasn't there for the last AMA due to the time-zones, glad to be here. I work with ASX-listed blue chips on Business Modelling — which delivers a plan for companies to create, capture and deliver value; most usually economically and socially. It's a key element in business strategy.
For VersoView I've been working with the team on the business model for the past two years.
Q6. For your advisors, what topics do you discuss with them?
Julian Jordan (CEO)
Operational, business development and marketing, and as we grow we'll look to them for enterprise adoption.
Q7. Do you have a sneak preview of the platform for us?
Julian Jordan (CEO)
We have an Alpha MVP with Pioneer Clients, but we're not allowed to share those yet due to NDAs signed. Once we get closer to the release date, we'll gladly show a live-demo and more of these partners.
We will be releasing details and visuals of our Alpha in Q2.

Q8. What functions will the platform have?
Stephen Peaple (CPO)
Hi, I'll take that question.
I'm the CPO for VersoView and I've worked with Julian for the past 25+ years.
VersoView is a patent-pending AI tool that digitalises publications in minutes.
Our tool is seamless. Think ONE click. It produces a beautiful reading experience without needing heavy resources (investment or personnel). Nothing like this exists right now, it saves significant time and resources.
Of course there's more. Current market choice is either free 'flip-books' which have a very poor user experience (pinch zoom, etc), or $spend tens of thousands to millions on $services, $software and $staff.
In essence, the current choice is either 'experience-light' or 'resource-heavy'.
Our clients want more. They want an alternative to flip-books; complete inventory control; their own branded App in which to house it; subscriber management; readers interacting with content; content to be shareable. To create authentic communities who then interact around their brand. And all of this for a Saas-style monthly fee.
Trader Wojak (Host)
So even content from other platforms are viewable in VersoView, this is amazing.
Stephen Peaple (CPO)
Yes.

Trader Wojak (Host)
You have got a nice value proposition. So how are you planning to compete with the other solutions marketing / financially wise?
Stephen Peaple (CPO)
From our research and experience we know significant numbers of publishers and corporates already seeking to transition to digital or have made the transition and are NOT satisfied.
In essence, while we have 'competition' there's nobody in our space. Which is why we have invented this from the ground up based on what we know our clients need.
Alex Moody (Director of Operations)
And.. Relationships. Julian and Steve have decades of connections to leverage for business development.
Trader Wojak (Host)
What is the monthly fee?
Stephen Peaple (CPO)
This will be confirmed and released at a later date. While there will be a free version, the paid versions will be cheaper than what's on the market, but with many more layers of innovation built in.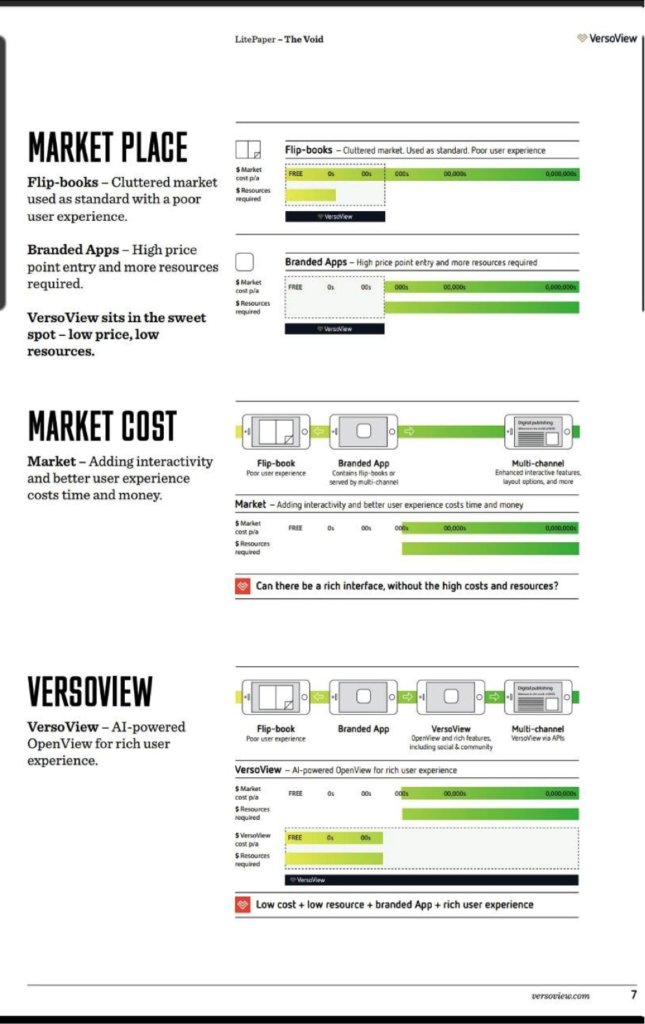 https://versoview.com/wp-content/uploads/2020/12/VersoView-Foundation-LitePaper-v3.1.pdf
Q8. Could you tell us about the roadmap?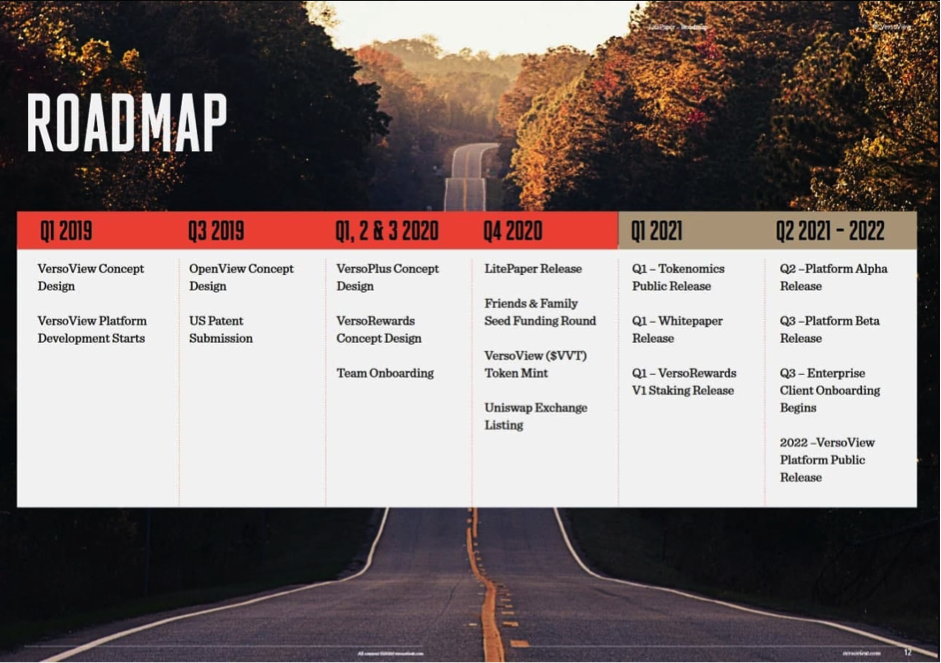 Julian Jordan (CEO)
See attached. We're currently on track.
We have hit all our key markers along the way.
Alex Moody (Director of Operations)
VersoRewards Staking V1 powered by Ferrum Network staking pools are open now for staking deposits and deposits close tomorrow at 12:00 UTC!
As of right now over 16,000,000 VVT (40m circ) is locked into pools and Silver is full, but Bronze (20% APY, 60 day stake) has about 800k VVT left and Gold (70% APY, 150 day stake) is unlimited.
Q9. In the litepaper there is a difference between development and business development. What is the difference?
Col Werner (CFO)
Development refers to the coding and UX of the VersoView platform and the AI backend, and that token pool will support those objectives over the next several years.
Business Development is enterprise client acquisition, and driving revenue and usage on the platform and those tokens will remain locked until after the Beta launch of the platform at the earliest.
Q10. What do you think will be needed for VersoView to become a massive success?
Stephen Peaple (CPO)
Usage.

We can guarantee that with our clients and we know from our research there is a thirst for publishers, brands and companies to jump from one platform to a better one. So friction to onboard is low. We know there's momentum building from even our own client bases.
By limiting the platform initially to Pioneer Clients, then Colonising Clients and finally Community Clients (essentially stages 1, 2 & 3) we will be able to massively test the tech before releasing it into the wild.
In tandem, our Marketing Plan has identified key client types and locations where we roll out our campaigns to onboard clients that synergises with the stepped approach above.
Our TAM (Total Addressable Market) is vast, incorporating publishers and magazines, SMEs to enterprises, brands and stores, and even events, books and more.
Q11. You all have succesful backgrounds. What is your main motivation to work on Versoview; What is your why?
Julian Jordan (CEO)
Three years ago we were looking for a SaaS for our corporate clients.
Our clients were looking for a Medium-style reading experience, Wix's approach to plugins, Facebooks' community integration, Google's ease of ad revenue generation, on the blockchain, all privacy protected, and all in one place…It did not exist, and it still doesn't.
So we put our heads down and spent the next year mapping out the concept, then started development two years ago. This is what we have been passionately working on for the last three years, and we are very excited to be releasing our Alpha and Beta in Q2 and Q3.
Q12. What was working in a bear market like? Did the price action influence your work?
Tommo (Community Manager)
Well, we only listed last december 2020, and Julian and Steve have self-funded the development since they started working on it in 2019 (with Col as well).
Alex Moody (Director of Operations)
It doesn't have much impact. We want to add value for investors in $VVT but we have been self-funded for years and will continue to develop and grow the platform regardless of market volatility.
Q13. How did the private sale go?
Tommo (Community Manager)
We didn't have a public private sale, just a smaller friends and family sale. We didn't want a big sword-of-damocles style private sale where people just get major token unlocks hitting on them at certain dates. We wanted a fair launch so gathered 100k from our friends/family and used these for legals, minting of tokens and Locked LP.
We locked our LP till January 2022. It's odd, we listed 6 weeks ago but it feels much longer 🙂 It's been a great journey so far.
Trader Wojak (Host)

You guys have grown hard in popularity. I believe you have a market cap of 1m right now?
Tommo (Community Manager)
Yes, we started at 200k mcap and are around 1,2-,1,3m now. We were in stealth mode for most of december and started to ramp up marketing now and will continue to do so.

Q14. What's your long term vision on VersoView?
Stephen Peaple (CPO)
Our vision is to Build a low friction bridge between the traditional business world and blockchain, and our mission is to change the way we publish, engage and reward. P.E.R.
We want to inspire users with interesting material (sticky) to digest that they otherwise may never have discovered. To connect audiences (communities) with publishers' best content.
And for all to be rewarded in that circular transaction.
Q15. How do you get people to use VersoView?
Stephen Peaple (CPO)
There's a natural transition of users who come with their brands, titles, and companies.
Most clients will have an existing inventory of subscribers, so we get the title or corporation and the users onboard seamlessly. This also leads onto an interesting point about inventory too. VersoView platform will allow a company to upload their entire inventory, so it truly becomes a single-source for their myriad users.

Trader Wojak (Host)

Many companies post the same articles on multiple platforms. Why would someone switch to VersoView?

Alex Moody (Director of Operations)
Rewards. VersoView engagement rewards.
Stephen Peaple (CPO)
And the reader experience, both visually and through the communities.
Q16. This leads me to your business model; what's in it for you?
Alex Moody (Director of Operations)
Revenue drives everything as with any business. We have a clear model on how this all translates to ad revenues, subscriber revenues, monetizing information and so on. And remember; as we win, token holders win.
Q16. Is there anything you'd like to share to our community before we head over the community questions?
Tommo (Community Manager)
There's two things; in our previous AMA we mentioned that one of our pre-launch pioneer clients is a major international five-star hotel brand; that deserves some new eyes on it. While we can't reveal a name, or names for others (NDA's and all that) they will come 🙂 there's multiple.
And a last one about supply.
We have 2b supply, while 40m is circulating. A lot of questions regarding this, so might as well grab the bull by the horn. The vast majority of our tokens are going to be used for revenue purposes. They won't enter circulation, with an effective lock, and the lock listed is a permanent one to send it to an 0x000 address.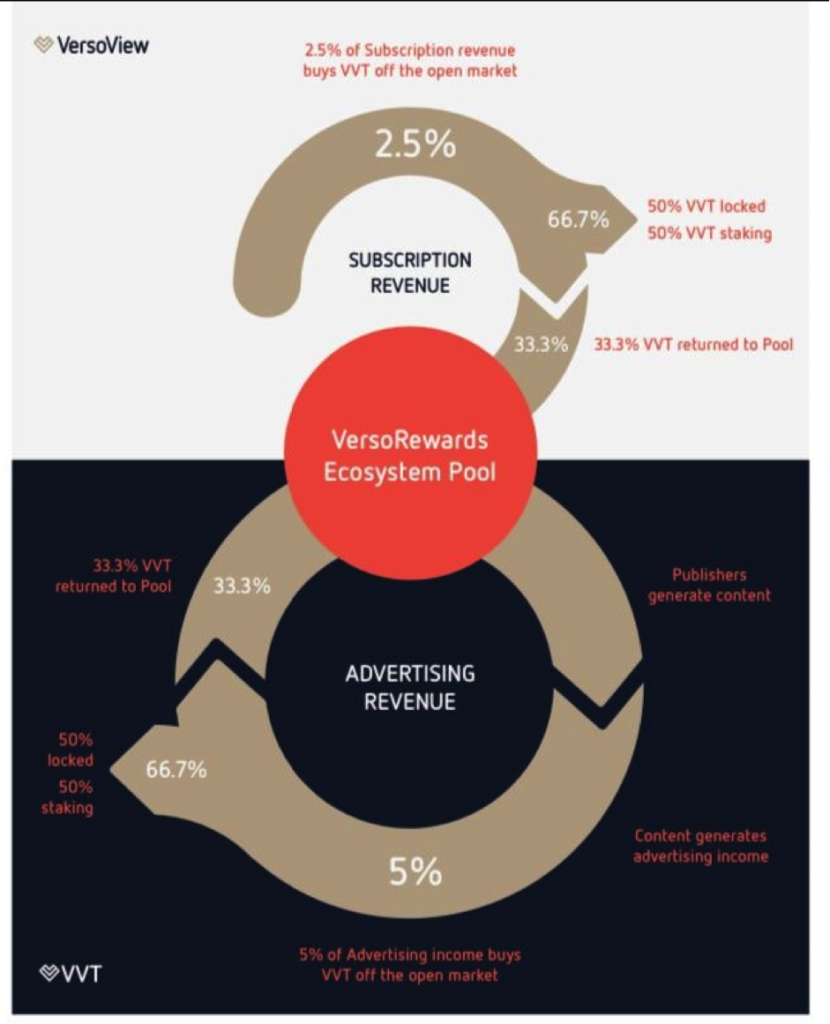 For now, we don't expect more tokens to hit the market besides the initial 40m for 6 months (after listing, so ~4,5 months now).

Community questions.
Q1. do you plan to expand VVT to other exchanges with a better reputation? Where else can I buy VVT ?
Tommo (Community Manager)
Right now, it's just on Uniswap. We feel it's a bit early to list on CEX-es (we are just getting started) but are open to everything. Exchanges aren't always bad, but they can also hold a company hostage at times. We're always debating the next step, right now it's great being on uniswap (albeit the fees are a bit rough at times). https://www.dextools.io/app/uniswap/pair-explorer/0x17213a669c5abadb822df1f2f06611221b0167de
The above link goes to Dextools!

Q2. Who is your investor? How do you generate revenue to sustain the project? What are your goals to the end of 2020 and beyond?
Tommo (Community Manager)
Julian/Steve self-funded for the last 2 years and will continue to do so as much as possible. We estimate that we can hit Alpha of our platform on these funds. There is no current revenue since it's not live, that'll come as we go.
Q3. As you can know lot of people uses some kind of bot, they can like their own article to get more money. So how do you anticipate this thing?
Julian Jordan (CEO)
Excellent question, holders of VVT and or the social tokens will be able to receive rewards, this hinders the spam bot problem.